Regarding Uganda's Passage of A Law Targeting Its LGBTQ Population (Minute approved on April 13, 2014)
Olympia Monthly Meeting of the Religious Society of Friends [Quakers] noted with deep concern the Ugandan Government's passage of a law targeting the LGBTQ population. This law has created a climate where the life, health, and freedom of all LGBTQ Ugandans and those who help them are at immediate risk. We are appalled at hearing about those who have already been kicked out of their homes, denied basic rights, abandoned, beaten, imprisoned, or killed, or who live in constant fear.
Olympia Monthly Meeting has been called to create the "Friends Ugandan Safe Transport Fund" (formerly known as "Friends New Underground Railroad") to aid LGBTQ Ugandans who are fleeing their homeland for their lives and safety. We have been given an opportunity to provide direct assistance that will save lives. In the first year of this effort we helped 1004 Ugandans get to safety and freedom [see the FAQs page for current numbers and other important information]. Many others remain at risk, and are trying to escape.
We call on all Friends, both individually and in their Meetings, Friends' organizations, and all people of good will, to help us in this effort.
###
Please support Friends Ugandan Safe Transport Fund.

See our most  recent appeal here.
To make a donation with PayPal, click here: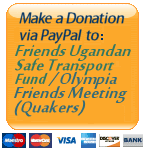 Or send a check to:
Olympia Friends Meeting
3201 Boston Harbor Rd. NE
Olympia, WA 98506-2800
Make the check out to "Olympia Friends Meeting" and be sure to put  "Uganda" or "Friends Ugandan Safe Transport" in the memo line. And please let us know you have sent a check so we can use that information to plan.
Note:  Contributions to Friends Ugandan Safe Transport through Olympia Friends Meeting are tax-deductible.
Thanks!
Friends Ugandan Safe Transport is sponsored by
Blue River Quarterly Meeting, downstate Illinois and eastern Missouri
Dallas Monthly Meeting, TX
Dunedin Monthly Meeting, New Zealand
Eggemoggin Reach Monthly Meeting,

Sargentville

,

ME

Families United Against Hate
Fort Myers FL Quaker Meeting
Green Country Friends Monthly Meeting, Tulsa, OK
Multnomah Friends Meeting, Portland, OR
Rochester (NY) Friends Meeting
South Central Yearly Meeting
Unitarian Universalist Association (PDF document of the UUA General Session VII, General Assembly 2014)
Vancouver Monthly Meeting, BC, Canada
Vassalboro Quarterly Meeting, Maine
Winthrop Center Friends Church, Maine
and many wonderful individuals!
Want to help?
Find out how including access to flyers you can print to share and more on our Volunteer page.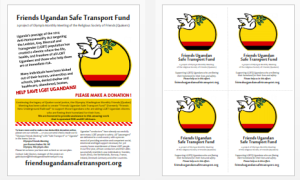 Like us on Facebook!
For more information, call Gabi Clayton, FNURR Manager; Co-Clerk, Peace and Social Justice Committee, Olympia Monthly Meeting at: (360) 888-5291. Or use this contact form:
We want to hear from you! Comments or questions are welcome.