Regarding Uganda's Passage of A Law Targeting Its LGBTQ Population (Minute approved on April 13, 2014)
Olympia Monthly Meeting of the Religious Society of Friends [Quakers] noted with deep concern the Ugandan Government's passage of a law targeting the LGBTQ population. This law has created a climate where the life, health, and freedom of all LGBTQ Ugandans and those who help them are at immediate risk. We are appalled at hearing about those who have already been kicked out of their homes, denied basic rights, abandoned, beaten, imprisoned, or killed, or who live in constant fear.
Olympia Monthly Meeting has been called to create the "Friends Ugandan Safe Transport Fund" to aid LGBTQ Ugandans who are fleeing their homeland for their lives and safety. We have been given an opportunity to provide direct assistance that will save lives. In the first year of this effort we helped 1004 Ugandans get to safety and freedom. [Please see the FAQs page for current numbers and other important information.] Many others remain at risk, and are trying to escape.
We call on all Friends, both individually and in their Meetings, Friends' organizations, and all people of good will, to help us in this effort.
###
Watch FOR's interview with three Olympia Quakers about Friends Ugandan Safe Transport Fund
Bold, Friendly Action to Help LGBTQ Ugandans Flee to Safety
The Olympia Fellowship of Reconciliation's January 2016 TV program lifts up a bold, compassionate, non-violent way to help people who are in danger because of the homophobic political culture in the African nation of Uganda. The action began with courageous, compassionate people within Uganda and is supported by Quakers and other people in Olympia WA USA and elsewhere.
Friends Ugandan Safe Transport was sponsored by
Blue River Quarterly Meeting, downstate Illinois and eastern Missouri
Cannon Valley Friends Meeting, Northfield, MN
Columbia Friends Meeting, MO

Dallas Friends Meeting, TX

Duluth Superior Friends Meeting, MN

Dunedin Monthly Meeting, New Zealand
Friends Meeting of Downers Grove, IL
Eggemoggin Reach Monthly Meeting,

Sargentville

,

ME

Families United Against Hate
First Parish of Sudbury, MA
First Unitarian Universalist Church, Springfield, MO
Fort Myers Friends Meeting, FL

Green Country Friends Monthly Meeting, Tulsa, OK
Hartford Monthly Meeting, CT

Jacksonville Friends Meeting, FL

Kickapoo Valley Monthly Meeting,  Gays Mills, WI
Live Oak Friends Meeting of Houston, TX
Mt. Toby Friends Meeting, Wendell, MA
Multnomah Friends Meeting, Portland, OR
Oklahaoma City Meeting, OK

Orono Friends Meeting, ME

Oshkosh Monthly Meeting, WI

Quakers of Orlando, FL
Quaker Peace and Service Aotearoa/New Zealand (QPSANZ)
Rochester Friends Meeting, NY

Somesville Union Meeting House UCC, Mt. Desert, ME
South Central Yearly Meeting – SCYM

Southeastern Yearly Meeting – SEYM

Strawberry Creek Monthly Meeting, Berkeley, CA
Unitarian Universalist Association (PDF document of the UUA General Session VII, General Assembly 2014)
Unitarian Society of Ridgewood, NJ
Urbana-Champaign  Friends Meeting, IL

Vancouver Monthly Meeting, BC, Canada
Vassalboro Quarterly Meeting, ME

Winthrop Center Friends Church, ME

Yarmouth Friends Meeting, MA
and many wonderful individuals!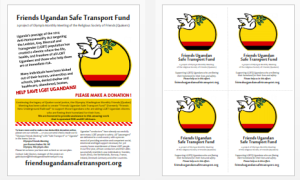 Like us on Facebook!
For more information, call Gabi Clayton, FUST Manager; Co-Clerk, Peace and Social Justice Committee, Olympia Monthly Meeting at: (360) 888-5291. Or use this contact form:
We want to hear from you! Comments or questions are welcome.